LIPOFIRM BODY TREATMENT
Lipofirm Plus is an award winning, medically certified and credible alternative to Liposuction. Creating inch loss, body contouring and skin tightening all in one treatment.
Excellent for:
– Skin tightening
– Inch loss
– Body contouring
– Cellulite removal
– Sagging necks and jawlines
– Fine lines and wrinkles
– Enlarged pores
– Collagen and elastin stimulation
No needles, no pain, no downtime!
What is Lipofirm Plus?
Lipofirm Plus is a treatment using Ultrasound Cavitation and Radio frequency to target areas of the body to permanently remove fat cells and create inch loss and Skin Tightening.
It will also dramatically reduce cellulite as well as give substantial inch loss.
You can expect an average of 2-4 inches lost with every lipofirm session.
A course of 8 treatments is recommended and most clients will see quite a dramatic result.
What happens during the treatment?
To commence treatment your Lipofirm Practitioner will conduct a thorough consultation along with a complete report of your medical history.
You will be weighed and measured and photographs taken.
A treatment gel is applied and the Cavitation hand piece emitting ultrasound is massaged over the area to be treated to disperse the fat cells.
After completion of the Cavitation, the Radio Frequency hand piece is applied to the area to tighten and firm the skin. This is very relaxing and the heat that is created helps to aid the fat dispersal where the fat has been lost.
On completion of the treatment you are immediately measured again and an "after picture" taken.
SUMMARY OF YOUR TREATMENT

Procedure Time
1 hour (approx).

Results
Fat reduction is immediate and ongoing (results vary from person to person and an aftercare sheet is provided). A course of 8 treatments taken fortnightly is required and you will be weighed, measured and photographed during your course of treatments.

Back to Work
Immediately.

Risks & Complications
This is a medically certified treatment and a full client medical history will be taken and discussed on consultation prior to procedure.
*Results may vary from person to person.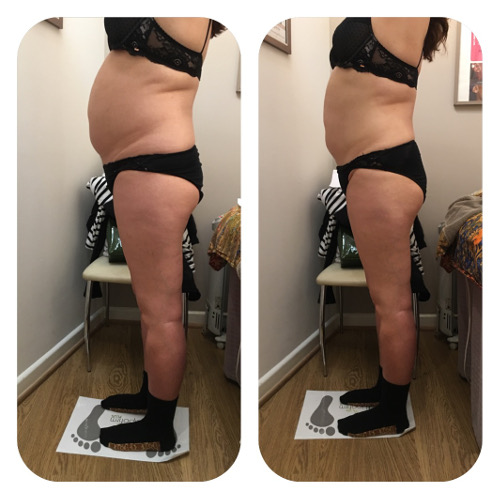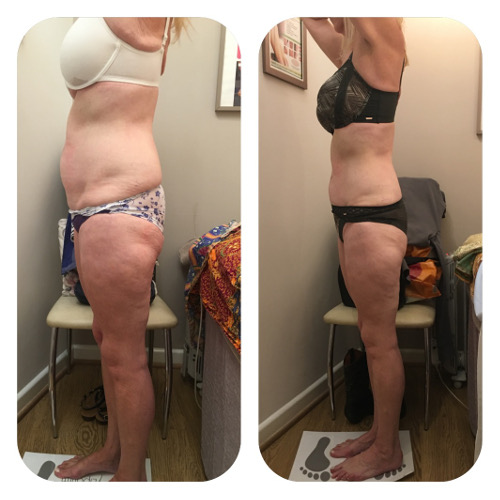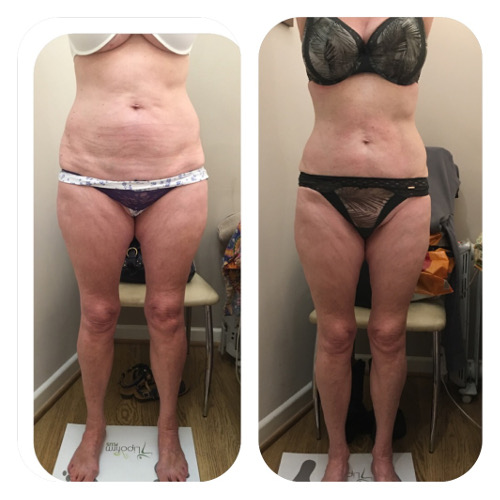 All testimonials on our site are based on the personal experiences of individuals. Results may vary from person to person.

After one session of Lipofirm on my tummy and wearing the Lipofirm patches on two occasions, there is definitely a difference, my tummy feels firmer, so pleased with the results
Heather, 08/03/2017

I had my first treatment last week and already have had complimentary comments about how much more toned and slim I look. I loved it! So thank you very much Sue
Mrs P.

Just had my last Lipofirm body session today and I am so pleased with the treatment. I look much thinner, my stomach is miles flatter and I have dropped a dress size. Have had to throw out all my 'fat clothes'!
Sheila

I've now had my 5th session of Lipofirm on my stomach and can definitely see the difference. My stomach feels tighter and my stretch marks have improved a lot! I'm also having Lipofirm facials and have received compliments as to how young and well I am looking. Looking forward to my holiday in a few weeks as I have so much more confidence!
Sharon B
Q Who is Lipofirm Plus body treatment for?
A Lipofirm plus ultrasound cavitation and radio frequency treatment is for anyone male or female who wants permanent inch loss and fat destruction in targeted areas – particularly stomach and thighs. This medically certified treatment reduces fat and tightens skin in targeted body areas. Alongside a healthy diet and exercise results are achieved and can improve with regular monthly maintenance.
Pricing:
A course of 8 Lipofirm body treatments: £800 with 1 maintenance treatment free (save £100)
Single treatments are £100
Please call or email in advance to reserve your preferred appointment and to discuss any special needs or questions you may have.
Please Note: For all appointments over 1 hour a 50% booking charge will be taken at the time of booking and will go towards your balance due on the day of your appointment.
Cancellation Policy: We require 24 hours of notice to cancel or re-schedule appointments, or the full cost of your treatment will be charged.
FURTHER INFORMATION:
Arrival
Please arrive 10 minutes before your appointment to allow time for a full consultation. This allows the therapist to tailor make your treatment according to your needs and will determine any medical conditions that might contra indicate the treatment.
For the comfort of other guests we respectfully request that all mobile phones are switched off whilst visiting Serenity Beauty Within.
Please note: we adhere to a prompt appointment schedule. This means if you are late, we can unfortunately only offer you the time remaining on your treatment slot.
Alcohol
Never consume alcohol before any beauty treatments as this can lead to skin sensitivity and is also a Health & Safety risk.
Valuables
The removal of jewellery is required for face/body treatments. Please ensure that you retrieve all your valuables before leaving Serenity - Beauty Within, as we cannot be held responsible for lost items.
If you are delighted with the treatment and service that you have received please tell your colleagues, friends and family about us. Your personal recommendation is our highest reward.