DERMAFRAC ADVANCED FACIAL
DermaFrac microneedle therapy is an advanced aesthetic treatment used to target many skin concerns including fine lines and wrinkles, sun damage and mild acne scarring.
The Dermafrac Advanced Facial treatment starts with a gentle microdermabrasion, then uses a roller which contains hundreds of super fine needles to stimulate collagen production and cell renewal to help plump, firm and smooth the skin. As the roller creates the micro-channels on your skin, the DermaFracTM system simultaneously allows the infusion of an advanced serum to boost the impact of the needling treatment.
DermaFracTM Micro-Needling Treatment targets:
– Ageing skin
– Fine lines and wrinkles
– Brown spots and pigmentation
– Open pores and congested skin
– Acne scarring
Advanced Infusion Therapy – The added benefit of a DermaFracTM micro-needling treatment is the simultaneous infusion therapy that takes place as the roller is gently moved over your skin. The infusion serum is able to penetrate the skin instantly and more effectively to leave you with a healthy, glowing complexion.
LED Light Therapy – The final part of the DermaFracTM treatment is an optional LED light therapy session. The light therapy promotes collagen stimulation, suppresses inflammation and reduces irritation. Your practitioner will advise you on the best treatment session for you.
An exciting new combination treatment to provide you with effective skin rejuvenation. The DermaFracTM microneedling treatment makes it possible to deliver active, powerful ingredients into your skin like never before and get the results you desire from this advanced cosmetic treatment.
With little pain and no downtime, this dermal microneedling treatment has been clinically researched to stimulate the skin to give you smoother, tighter, healthier looking skin.
SUMMARY OF YOUR TREATMENT

Procedure Time
1 hour 15 mins

Results
Immediate and cumulative

Back to Work
Immediately – some redness may be present

Risks & Complications
Minimal. Full skin and medical history will be taken upon consultation
*Results may vary from person to person.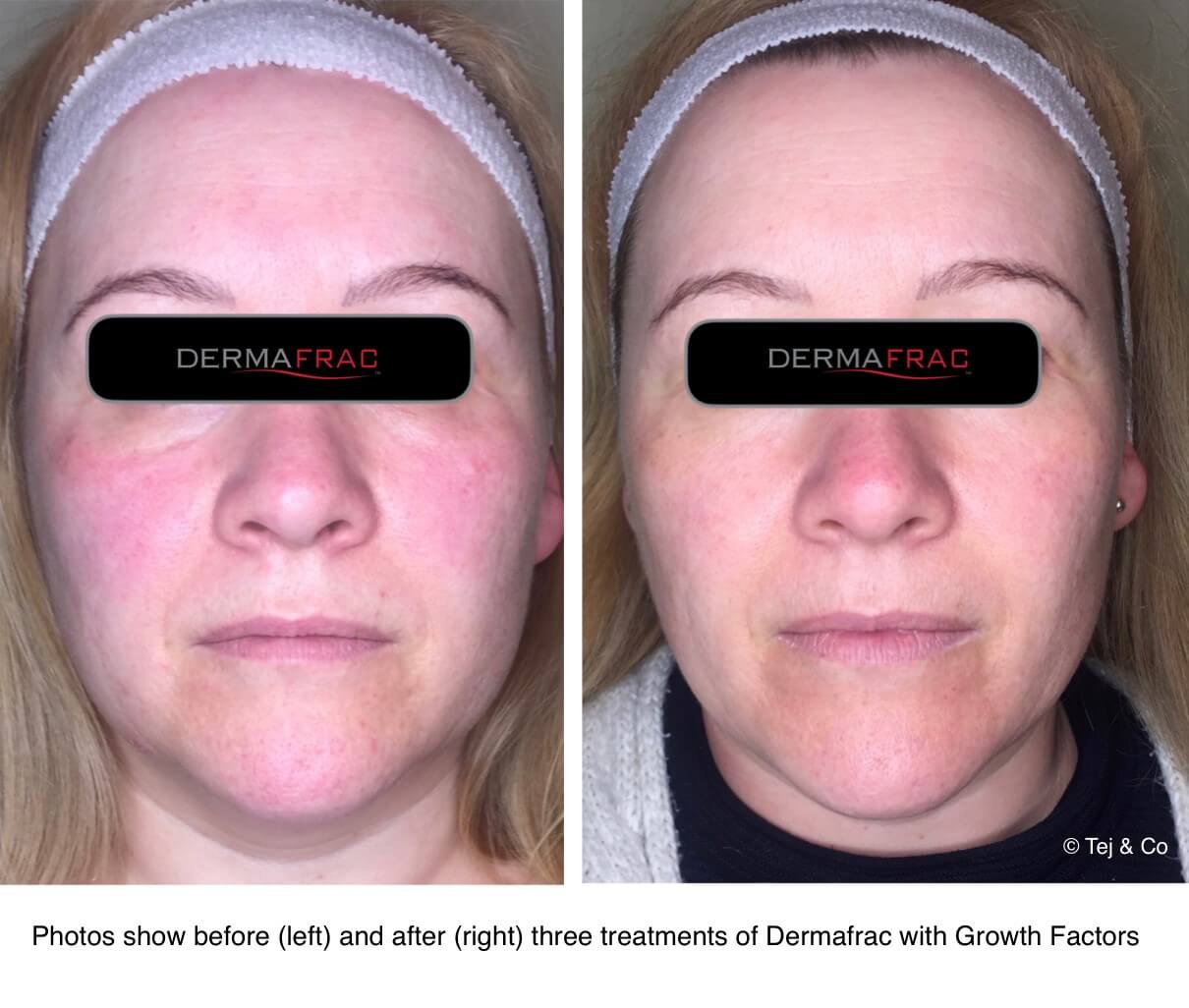 Pricing:
Individual treatment: £120
Course of 6: £600 (receive one treatment free saving £120).
We strongly recommend a course of 6 treatments to achieve the best results, with a treatment every 2 weeks, and maintenance treatments thereafter. We will discuss this with you in depth during your skin consultation and design your personal skin transformation programme.
Please call or email in advance to reserve your preferred appointment and to discuss any special needs or questions you may have.
Please Note: For all appointments over 1 hour a 50% booking charge will be taken at the time of booking and will go towards your balance due on the day of your appointment.
Cancellation Policy: We require 24 hours of notice to cancel or re-schedule appointments, or the full cost of your treatment will be charged.
FURTHER INFORMATION:
Arrival
Please arrive 10 minutes before your appointment to allow time for a full consultation. This allows the therapist to tailor make your treatment according to your needs and will determine any medical conditions that might contra indicate the treatment.
For the comfort of other guests we respectfully request that all mobile phones are switched off whilst visiting Serenity Beauty Within.
Please note: we adhere to a prompt appointment schedule. This means if you are late, we can unfortunately only offer you the time remaining on your treatment slot.
Alcohol
Never consume alcohol before any beauty treatments as this can lead to skin sensitivity and is also a Health & Safety risk.
Valuables
The removal of jewellery is required for face/body treatments. Please ensure that you retrieve all your valuables before leaving Serenity - Beauty Within, as we cannot be held responsible for lost items.
If you are delighted with the treatment and service that you have received please tell your colleagues, friends and family about us. Your personal recommendation is our highest reward.